About The Founder
"Be good to yourself.  If you do not take care of your body, where will you live?"
– Kobi Yamada
Whether it is the love of a forest or a single tree, of the ocean or a wave, of the rain or a sun drenched day, the essence is the magnificence within everything.  Universal energy connects all things big and small.  Through a collaborative partnership with clients and the Divine, I am blessed to align others with the collective stream of energy that flows through all things awakening the innate genius within.  Harmonizing with this cooperative energy to rekindle inner remedial faculties, I am honored to share the beautiful sacred tradition of Reiki in a splendid blend with the more modern healing modalities of Healing Touch and CranioSacral Therapy.  Used as complimentary healing arts, they all access Universal Life Force Energy to facilitate health and well being.   Reiki is gentle and still touch with hands-on while Healing Touch incorporates hands-off techniques that might be still or hands in motion and CranioSacral techniques are hands-on with slight movement and gentle touch.  Each modality is widely accepted to restore balance in the body, mind and spirit, to improve chronic or acute pain, reduce stress, boost resistance, encourage relaxation, restful sleep and healing, benefiting people of any age in any state of health.
Fascinated by energy healing from a young age and intrigued by human physiology, my early education is somewhat reflective of my more recent training in the healing arts.  I hold a bachelors degree in Athletic Training with a minor in Health Science; I completed my internship at the Veterans Administration Hospital in La Jolla, California prior to becoming an Emergency Medical Technician (EMT).  An ordained minister and energy healer, I have completed coursework by leading energy medicine establishments and specialize in detoxification.  Certified as a Reiki Practitioner in Oahu and mentored by an R.N., I joined the Healing Touch Program on the Big Island in 2006 and became a Certified Healing Touch Practitioner (CHTP) in 2012.  As a member of the Healing Touch Professional Association and the Energy Medicine Professional Association, I have augmented my training with CranioSacral Therapy through the Upledger Institute and have expanded my skill set to include the basic two-step NeurolinkTM protocol from NIS Academy as an addendum to my healing practice.  In early 2014, I was awarded a scholarship and earned a certificate in Plant Based Nutrition at the T. Colin Campbell Center for Nutrition Studies through  eCornell University.  In 2015, I expanded my knowledge base to include AromaTouch Technique utilizing essential oils to address inflammation, enhance resistance, promote stress management and homeostasis.  Exploring the shamanic arts and delving in to the use of crystals, acupressure, reflexology and guided imagery paired with divine guidance,  in 2019, I completed a two-year credential accredited by the American Association of Drugless Practitioners and became certified as a Holistic Health Practitioner.  In October of that same year, Hāla'i Healing Place was selected for the 2019 Best of Kailua-Kona Award in the Holistic Medicine Practitioner category by the Kailua-Kona Award Program.   Today, as a Certified Healing Touch Practitioner, Reiki Master Teacher and Holistic Health Practitioner, I remain passionate about continuing my education and passing forward knowledge, ancient wisdom and healing to others, hence why in 2023, I picked up a one year study course with one of my most influential mentors, Dr. Doug Graham, Olympic Coach and Trainer.  Combining my passion for helping people with my devotion to health,  as a Certified 80/10/10 Coach, I  have a broad array of resources to successfully guide others on a triumphant personal journey towards optimal vitality.
My interest is preventive and restorative with an integrated outlook on nutrition and overall health.  As a spiritual and wellness coach, I encourage moderation while honoring the unique preferences and needs of  the individual.   In a technological age of ever increasing environmental toxicity, I counsel on simple, gentle cellular cleansing (detoxification) regimes as the most basic step towards achieving vitality with the premise that the human body has the capacity to heal itself in the absence of  obstructions.  Specializing in detoxification, I integrate specific energy healing techniques to counteract the effects of environmental pollution, not only from chemical influences but from electro-pollution that cause disturbances in the human bio-field.  A person that is rid of toxins, replenished with nourishment and rejuvenated with energy healing experiences a superior quality of life and naturally radiates at a higher vibrancy.  My approach is to create harmony by first influencing the body which in turn affects the mind.  When the body is happy, the mind will follow.
Originally residing in Honokowai on the isle of Maui as a youth and then in Oahu in to my late teens and early twenties, I attended college in San Diego, California and moved to the Big Island in 1996.  Living with my husband on the northern tip of Hawai'i Island; besides my passion for supporting others on their journey of healing, I indulge in barefoot writing, enjoy water sports year round, have a regular practice of  "active flow" hatha yoga, lead laughter yoga groups and teach beginning "fundamental" yoga, gentle stretch and restorative yoga and personalized private yoga classes. Coupled with healing whole foods, I use specific energy medicine protocol to support a gentle detoxification and wellness program.  The Earth has everything we need to heal; it is merely a matter of familiarizing ourselves with the planet's natural resources.  Life yields infinite opportunities for learning, refinement and empowerment.  It is in this spirit that I share my experience and insight.  I am committed to educating others and to helping people rekindle their passion for life through self care with the philosophy that 'if you take care of your body, your body will take care of you.'   Please visit me by appointment at Hāla'i Healing Place in west Hawaii in the village of Kailua Kona on the Big Island of Hawaii (808.987.6010).                        – Namaste, La`Ren Kristen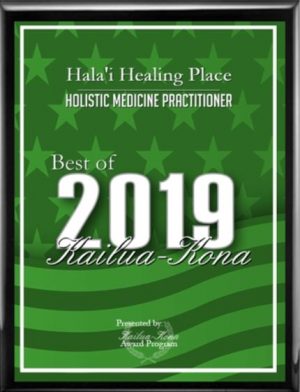 Disclaimer:
These statements have not been evaluated by the U.S. Food and Drug Administration.  
There is no intention to diagnose, treat, cure or prevent any disease.