Contact
If you are on the Big Island of Hawaii, please call La`Ren at 808.987.6010 to schedule a personal appointment at Hāla'i Healing Place.  With a lovely space in the heart of Kailua Kona, you can also choose a private location of your choice for your healing experience.   Your first visit includes an energy healing with an assessment and discussion of your personal needs.  Allow at least a few hours for your initial consultation and wear loose comfortable clothing.
Click here to learn more about the founder.
Physical Location for West Hawaii:
Kailua Kona:
75-5737 Kuakini Highway, Suite 203
Kailua Kona, HI  96740
Phone:  808.987.6010
Email: halaihealingplace@gmail.com
By appointment only.  Mahalo for your kokua.  Out of respect for all clients, please no drop-ins. 
Hāla'i Healing Place is centrally located upstairs in the Chamber of Commerce Building in the Village of Kailua Kona on the Big Island of Hawaii.  Please click here for driving directions.
---
Please use the address below for all mail correspondence.
Mailing Address:
Detox Wellness Consultants, LLC
dba Hāla'i Healing Place
P.O. Box 1094
Kailua Kona, HI 96745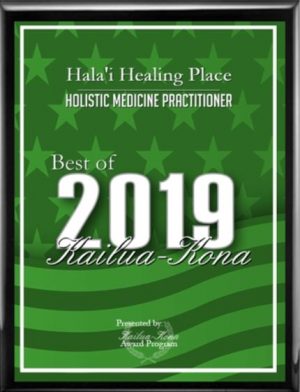 ---
Book an Appointment
If you would like to book an appointment, you may pay in advance here or call us at 808-987-6010.  All appointments are held with a credit card. 
If you have specific conditions you would like to address, it is best to call  beforehand to determine the best appointment length to satisfactorily meet your needs.  First time sessions might range between three to six hours.  Please come prepared with drinking water. 
Once booked, you will receive a detailed confirmation e-mail.  Please reply to the e-mail to confirm the scheduling of your appointment.
APPOINTMENT CANCELLATION POLICY
A  72-hour 100% non-refundable cancellation policy applies to all  appointment bookings.  For cancellations within 4 – 7 days of appointment, a 50% refundable cancellation policy applies.  Reschedules are an additional $50.
Gift Certificates available.  Please click here.
Thank You.
Once your payment confirmation is received, you will be contacted via email and/or phone to complete the arrangements.
An intake form will be emailed to you to complete prior to your session.  I look forward to working with you.